Our Services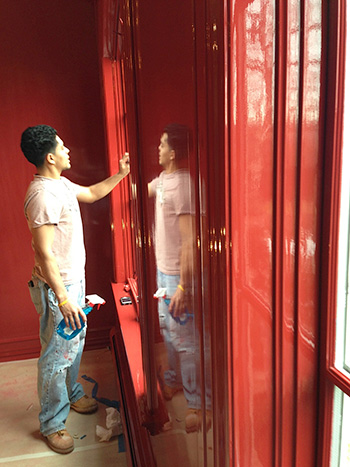 THE WORK
Rarely do we come upon jobs that just require applications of paint. Proficient and  methodical preparation of surfaces are required. The work can be long and tedious. Aside from knowledge and skill, It takes focus and patience. It takes a clear mind, steady hand with a confident unhesitating brush stroke. Beautiful house painting is born of craftsmanship and character. Our work is our signature.
PREPARATION – The Unseen Work
You can be assured that our skillful preparation of surface means beautiful and long lasting results: To ensure this, we do the following:
We use the right materials and processes for the right surfaces and conditions
All loose paint and plaster are removed
All surfaces are carefully checked for weakness, cracks and imperfections, then appropriately repaired
Woodwork is sanded with coarse to fine sandpapers for the smoothest finish
Imperfections in wood are filled and sealed, then sanded
All work is inspected and dust-free before priming
All surfaces are primed with the appropriate primers
PROTECTION OF YOUR POSSESSIONS
We know that house painting can bring up some feelings of anxiety for customers. We are always thinking ahead on this concern:
We do extensive work to cover and protect your possessions
We mask, seal and tape to keep work areas isolated
We have invested in the latest and best technology to keep dust to an absolute     minimum.
We use environmentally safe materials.
Thorough cleanup is done after painting is completed
We leave no footprint
We are fully insured
EXTERIOR PAINTING  
We will assist in making your home an integral part of your landscape, an intimate part of its surroundings. Our workmanship and use of the very best equipment and tools will ensure the work stands up to climatic conditions.  We are experienced with all kinds of exterior surfaces and knowledgeable of the finest and most durable materials. Glick's Painting has what it takes to make the work stand up to the harsh weather of the Northeast: Be it cold, heat, moisture or light, our professional work will win the fight. We are committed to bringing out the character and beauty of the exterior of your home and making it a joy to behold for your many years to come.
COMMERCIAL PAINTING
We have the manpower and skill to take on jobs of all sizes. We are set up to work neatly and efficiently to bring the same quality of work and expertise to your business as we do to the finest homes. We are flexible with working hours to accommodate the needs of your business.  Whether it be a small business, corporate headquarters, or an apartment building, Glick's Painting has earned the trust and respect of all.
WALLPAPER
We are professionally trained wallpaper hangers with extensive experience. We are adept at hanging everything from commercial papers to the most delicate materials.  When it comes to hanging wallpaper, there is no substitute for years of experience in the most challenging of spaces.  The confidence we have in our work has earned us the confidence of both home owner and decorators.
CABINET WORK
Cabinet painting is a skill unto itself. We are highly proficient in this special craft. We are called upon by cabinet makers for our specialty with lacquered paint. We utilize HVLP sprayers and to apply the finest of coats to impeccably finished woods.  Our spray lacquer work speaks to the extent of our skills.
We refinish kitchen cabinets with the same dedication and skill we apply to our lacquer work. We will strip and sand your old cabinets and apply stain or paint as desired for a brand new look.  Spray or brush, our goal is to create the look that you desire.
POWER WASHING
We power wash home exteriors where paint has attained a covering of dirt after years of exposure to the weather. A good power wash for a perfectly good paint covering is what your house deserves. It can make an exterior look like new.